Types of Virtual Reality
Virtual reality allows us to create an artificial world that is not physically existing but perceived by the senses in real time in accordance with the laws of physics. And although it is unreal, it still has a tremendous influence on a person. Virtual objects and subjects created by technical means influence a person through his senses: smell, sense of balance and position in space, touch, sight, taste, hearing. Virtual reality systems more completely than conventional computer systems imitate interaction with the virtual environment, by influencing all five senses that a person has. Virtual reality simulates the impact and reactions of various objects on this impact. 
The first VR system was the Oculus Rift helmet. The Oculus Rift virtual reality helmet appeared on the market in accordance with all the canons of the high-tech genre of our time. And now we can observe what a revolution in technology the first VR helmets have made. There are predictions that assume we are going to use VR in many industries.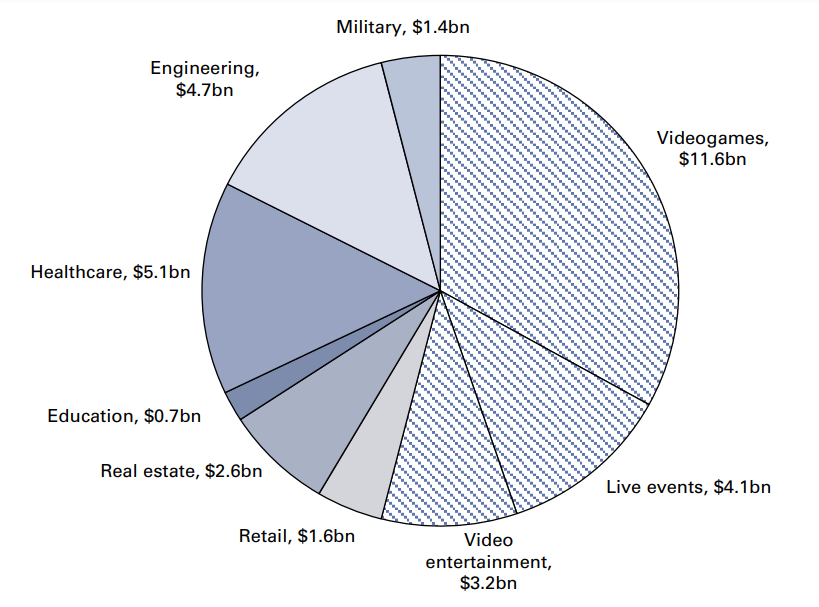 2025 base case VR/AR software assumptions by use case from Goldman Sachs.
So, let's explore what possibilities the existing VR systems provide us to check whether we are at the gate of the sci-fi future. Currently, the following types of VR systems are designated:
Helmet of virtual reality. A virtual reality helmet consists of: 1) glasses and one or several displays that display images; 2) tracking system that tracks and determines the position of the helmet in space. As a rule, tracking systems for virtual reality helmets are developed on the basis of gyroscopes. For systems of this type, the accuracy of the tracking system when tracking the tilt and rotation of the user, as well as the minimum delay between tracking the change in the position of the head in space and displaying the corresponding image on the screens is important.

MotionParallax3D display

. This type includes many different technological devices: from devices for smartphones and tablets to special VR rooms (CaveAutomaticVirtualEnvironment). Systems of this type create a sense of a volume object for a user with the help of generated projections of virtual objects generated from the position of the user's eyes. When you change the position of the user's eyes relative to the displays, the image changes accordingly. These types of VR use the technology of perception of the volumetric image – motion parallax (Motion Parallax). Systems track eye coordinates in space. Optical cameras are used for this.

Gloves of virtual reality. Engineering students from the University of California at San Diego (UC San Diego) created gloves that allow you to feel a tactile response when interacting with virtual reality. To create the device were applied technology manufacturing soft robots. These gloves have already shown their ability to simulate realistic tactile feedback when playing the piano and using a virtual keyboard.
Total Immersion in Virtual Reality
In a few short years, virtual reality from the technologies of the future has become something ordinary. Today, various headsets are available to users, from cheap Google Cardboard glasses to expensive and powerful gadgets such as the Oculus Rift. Experts predict that virtual reality will soon lead to a revolution in many areas of life, from education to industry.
Tactile Response
The main problem of modern VR is the lack of fullness of sensations compared to reality. Yes, there's a volumetric world in front of users, but they do not see their own bodies in it, do not feel the warmth or coldness of objects. However, in the world of technology, there has long been such a thing as "haptic technology". We are talking about devices that allow a person to receive information from technology with the help of touch. The simplest example of a tactile response is vibration feedback set in some game controllers. The hero on the screen gets hit, and the gamepad starts to vibrate in the hands of the user.
Today notable startups such as Teslasuit and Hardlight VR are trying to use this technology to create costumes. Both companies are developing overalls, stuffed with motion capture sensors and vibroelements. That is, the suit should catch the user's movements and transfer them to the avatar in virtual reality. And if in virtual reality you get shot in the shoulder, the suit will allow you to feel this blow.
Teslasuit was created in order to achieve more complete immersion in VR. It consists of upper and lower parts. The elements of clothing are mounted sensors and panels of various systems. A tactile feedback system provides feedback from objects when interacting with them. The temperature control system allows feeling the temperature of the environment or objects.
The motion capture system is responsible for moving your avatar. That is, you can see your arms/legs, and all the users in the virtual space can see your movements. The biometric feedback system captures various parameters of the body (including the work of the heart), allows to draw conclusions about the state of a person at a given moment.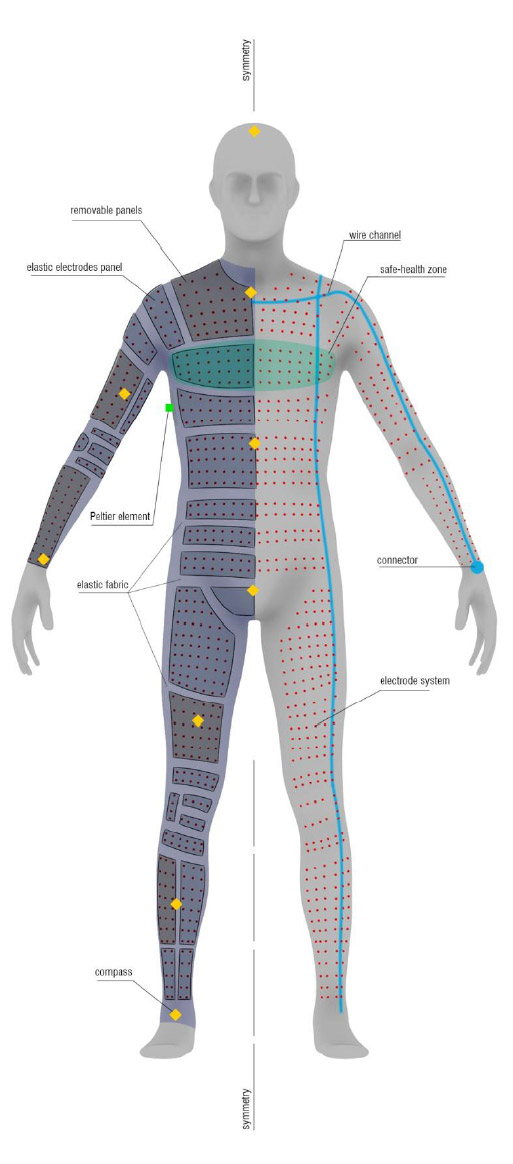 source: teslasuit
How does this work in reality? Depends on the scope of use. For example, if you play a CS:GO type of shooter, you can not only see everything that happens in three dimensions but also feel the objects as if you really are in a location. For example, entering a burning house, you will feel how it gets hot. Touch the door and feel it. If any of the opponents hit you, you will easily understand exactly where!
The most interesting thing is that physical sensations are formed not by vibration motors, but by means of direct electrostimulation of tissues. This allows you to achieve maximum realism, and you can adjust the level of stimulation as you like. Relatively speaking, if you are afraid of VR, the level can be barely noticeable, but if you prefer hardcore, you will get really unpleasant feelings.
It looks quite interesting, but let's recognize: this technology is unlikely to ever become mainstream soon. We can well expect that in a couple of years the prices for virtual reality helmets will decrease. But such costumes will always remain too expensive for the mass gamer. And the sensations that such a jumpsuit conveys are rather conventional and schematic. That is why engineers around the world today are puzzled over the so-called "virtual embodiment" (virtual realization). This is a complex and rather new area of ​​research. Ideally, it should allow a person to feel transferred to a new virtual body, and not necessarily in a human one.
Virtual Touch
Although the virtual embodiment is a new field, it is based on developments and research that have been around for more than a decade. For example, scientists have long known of the rubber hand illusion. In the course of this psychological experiment, the test subject experiences the feeling that the artificial rubber arm, lying on the table in front of him, is part of his own body.
This experience was set back in 1998. But modern research confirms that in virtual reality there is a similar effect. Only the rubber arm is now replaced by the virtual one. So, back in 2010, researchers found that by synchronizing movement, touch and visual effect, you can create a complete illusion for a person that a virtual hand is his own. This effect is already used for medical purposes. With the help of virtual avatars, people are much faster to restore the motor activity of damaged limbs. 
Studying such psychophysiological effects and combining them with available engineering solutions, one can try to create quite realistic "snares". For example, in virtual reality, the user touches the fabric, and an ultrasonic generator with powerful pulses makes him feel the texture of the material. The player rests his hands on the virtual wall, and the gloves give him strong vibration feedback in the palm of his hand.
Of course, if you carefully analyze your feelings, such deceptive maneuvers will not be able to create a complete illusion of reality. But the calculation is made on the fact that the user will not carefully analyze the sensations. If the physical signal will at least partly coincide with the visual picture, the user's brain will correct the senses and fantasize everything else. Not too realistic, but effective.
Direct Brain-Connection
In the near future, humanity will have to be content with a not too realistic virtual reality, but in a slightly more distant future, the situation may change. When the direct connection of the brain to the computer replaces the stimulation of individual sense organs, virtual reality can become truly real.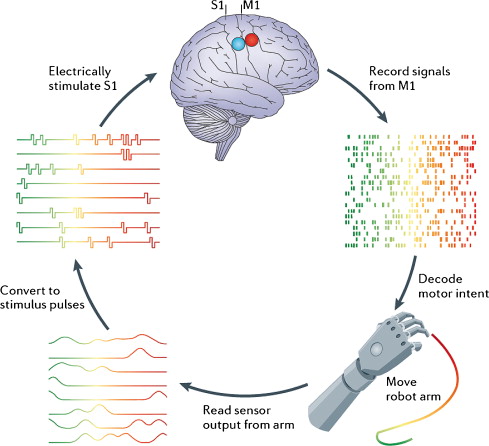 source: researchgate
It sounds like a fantasy, but in fact, such studies are already underway. Last year, the head of SpaceX and Tesla Motors Elon Musk launched an amazing project. The company Neuralink is developing a direct connection brain-computer. It is about creating small devices that are implanted directly into the human head.
Neural interfaces from the movie "The Matrix" do not look very aesthetically pleasing. Hopefully, in reality, without bulky connectors, such devices will function as controllers, allowing you to directly connect to the machine. Firstly, such a connection will significantly expand the capabilities of the human mind. Secondly, it will allow direct control of various techniques, including biomechanical modifications of human bodies. Finally, with the help of such a connection, for the first time, it will be possible to fully immerse into virtual reality with the use of all the senses without any complicated engineering delights.
Virtual Universes
It can take years, or even decades, to develop this amazing technology. But only when the neural interface is created, mankind will experience total immersion in virtual reality. For now, we can enjoy what recent innovations allow us to. There are actually many ways to use virtual reality. Now VR is steadily penetrating the crypto world. Many projects, based on blockchain are developing now and propose all VR fans many amazing opportunities. NetVRk decided to create its own platform based on blockchain in order to provide VR fans, gamers, designers and crypto-enthusiasts with limitless possibilities. NetVRk is a place where you can actually build your own virtual universe, own a real estate in it, socialize and even earn in it. It is all-in-one: create or find content, buy land and trade it, download your own audio files. And blockchain assures that everything is made safely and transparently. Decentralization and security of the blockchain will give users greater autonomy and independence.
NetVRk strives to open up new and interesting horizons for VR users to create, share and monetize the generated content and adventures into which you can immerse yourself. To find out more, check our homepage.
http://netvrk.io/wp-content/uploads/2019/08/03-VR-like-in-Si-Fi-movies-coming.png
628
1200
John Taylor
http://netvrk.io/wp-content/uploads/2018/11/netvrk_Logo340x156.png
John Taylor
2019-08-03 01:47:32
2019-08-03 01:52:06
VR Like in Sci-Fi Movies is Coming